---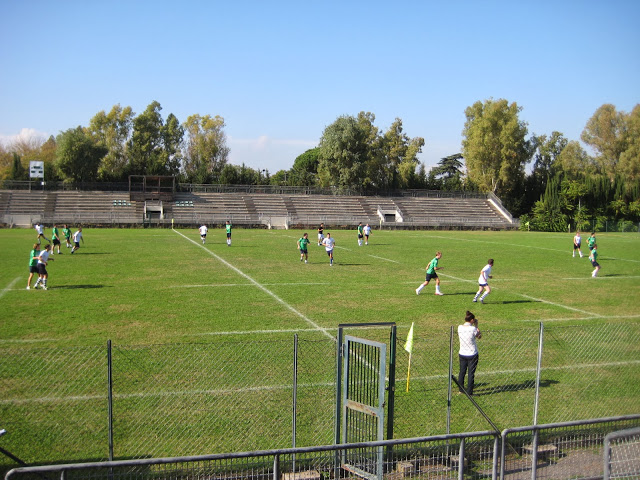 Sunday sport in the sun
Rome's Gaelic Football team started the season in style with a comprehensive win over the Roma Football Club (Aussie rules) in the inaugural ROME INTERNATIONAL CUP. The two teams clashed in a friendly international rules match organised to promote both sports within the city. Rome Gaelic Football player and Club Chairman Chris Taggart explains,
"It's great to see minority sports with shared origins coming together to play such a friendly match. It should be the first of a 3 match series. We are going to tweak the rules slightly so that the Gaelic team aren't at such an advantage."
A gracious point from Chris as the final score (65-24) was an overwhelming victory for the Gaelic side. Although an Irish sport, the team is an international affair with players from Ireland, Belgium and of course Italy. Played in 25 degree heat and cloudless blue skies, the weather played its part in making it a great day. The only player still wearing gloves however was Italian I'm sorry to say ...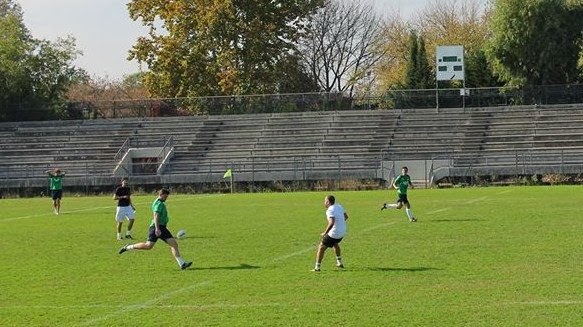 The Gaelic team dominated the first half with the half-time score 44-11. Knowing nothing about either game, being a spectator had its difficulties. When do you clap, did that go through the post, which posts score most, do they have goal keepers and with my friend Nannette asking 'have they scored?' every time the ball went anywhere near a post, we weren't exactly well-informed supporters. We did our best and Naomi from the women's team was on hand to explain some of the finer points. It was a good match although a little too good-humoured and friendly for my taste. 5 minutes later, as if just for me, the game did take a more dramatic turn, with a young Aussie Rules player being sent off for inappropriate language and I would have said sulking. He reminded me of one of the kids in my class with his vaffa' and vabbe's, over-the-top gestures followed by shrugging of the shoulders. All good fun though and the ref dealt with it well. A couple of minutes later he was back on the pitch and fully involved in the game.

Other than that incident, the game was played in good spirits. New to Rome, Cormac McLaughlin describes the social aspects of the game which are so important home in Ireland,
"Ive become involved in Rome because of the game, friendship and a quick avenue to getting to know people as I've just recently moved here. I find it amazing that so many non-Irish people are passionate about the game and take it almost as a compliment that they embrace my national sport. It is an important part of Irish life and to maintain it when away from home is great, shown by one of our players, Daniel, who drove from Sorrento just for the game."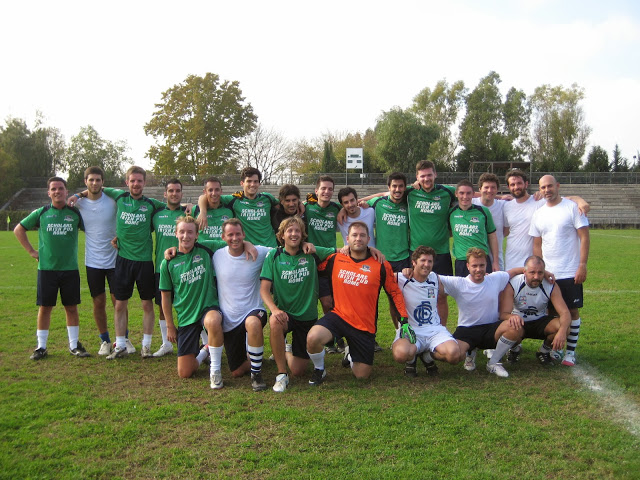 after match hugs and smiles
Popular across Europe with teams in France, Spain and Austria, the Gaelic Football scene has really taken off over the past 18 months here in Italy with three teams in Rovigo, Padova and of course now in Rome. In 2013 all three Italian teams hosted a tournament in the Swiss/Italian Region of European GAA. As a founder of the Rome team, Chris Taggart was highly involved from the beginning,
"I contacted our team sponsors Scholars Lounge and made arrangements for the training pitch at Rugby Roma, both have been very accommodating. Niall Boyle has been in charge of training since the club started and Ken Russell takes the ladies training sessions when he is available. It's a team effort, everyone within the club plays a part following the model of Gaelic clubs in Ireland where everyone gives their time freely for the enjoyment of the game."
And it seems it all began here in Italy thanks to one man, Raffaello Franco, After he honeymooned in Ireland and fell in love with the Gaelic game, he brought a football back with him and set up the Rovigo team. Rivals Padova, then Rome followed suit and there are now talks of teams in Florence, Milan, Verona and Treviso. The Italians seem to be just as passionate about Gaelic Football as the Irish immigrants who are spreading the game across Europe. Describing it as a complete, challenging, physical game and a hybrid of many other sports, the game looks set to go from strength to strength.Whetted your appetite for the Gaelic game? The club are always looking for new members. The men and women's teams meet for training every Thursday night at 8pm at the Roma Rugby Ground on Via delle Tre Fontane, Metro EUR. There's no need to have played before. For more information contact
Rome Gaelic Football Club
Catherine Simes blog:
youcantakethegirloutofbradford.blogspot.it
Follow Catherine Simes on twitter
@catherinesimes
Catherine Simes United Kingdom
---
---