---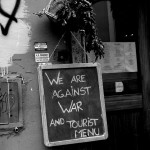 "Unsurprisingly, she knows all the best places to eat in Rome, including a gelateria that serves a frozen rice pudding (and if they don't serve this kind of thing in heaven, then I really don't want to go there.) She took me out to lunch the other day, and what we ate included not only lamb and truffles and carpaccio rolled around hazelnut mousse but an exotic little serving of pickled lampascione, which is –as everyone knows—the bulb of the wild hyacinth."
Just one quote from the novel "
Eat, Pray, Love
" by
Elizabeth Gilbert
. The first part of the book – which is Eat! – is all set in Rome and the main character goes to Italy to, one, learn the beautiful language and two, to eat to her heart's desires.Once you are here you'll understand you can never (never!) starve in Rome, there is always a place around the corner serving food. Of course not all the restaurants are alike, not all the trattoria are unforgettable, not always the price is so reasonable as we would aim for. Surely there is a lot of choice and sometimes picking one place from such an embarassement of choices is hard. Lately there is plenty of updated websites, blogs and forums to help you out.But if you do not have time to surf the web, we have here a little list of places we like, just for a last minute reference:
Antica Roma
: imagine eating in an ancient "colombario" (a Roman funerary building) along one of the most ancient roads of the world, the charming Appia…. That's something unique to experience in Rome!
Antico Arco
: elegant atmosphere, international cuisine, prepared staff, far from the crowd (Gianicolo hill, perfect for a romantic stroll after dinner)
Checchino
: awarded restaurant of traditional Roman cuisine. And we love the 'hood, Testaccio.
Costanza
: local cuisine served in an "archaeological attraction", the ruins of the Theatre of Pampey (next to Campo dei Fiori)
Cul de Sac
: if you are tired of pasta and pizza, a more french-style bistrot cuisine and thousands of wines at the glass. Near Piazza Navona.
Dar Poeta
: we will never state one is "the best pizzeria in Rome" , but this is a damn good one! A bit to wait before being seated but it's worthwhile. Try the delicious "calzone" with ricotta cheese and nutella to end the dinner! And afterwards, a walk in Trastevere, of course.
Ditirambo
: traditional cuisine and cozy atmosphere. Near Campo dei Fiori.
Gigetto
: try the Jewish-Roman cuisine in the former Jewish Ghetto. Do not miss the fried artichokes!
Gusto
: where you find a bit of everything, from pizza, to Sunday brunch, to fusion cuisine. Near the Corso.
Il Fico
: local specialties in a relaxing setting, just in the middle of the Roma's movida (Piazza Navona side alleys)
La Montecarlo
: informal, noisy, genuine, cheap pizzeria near Piazza Navona.
Merulana
: one of the rare cases in Rome where you can eat at any time! Near San Giovanni basilica.
Obika
: a mozzarella bar overlooking the lively piazza Campo dei Fiori. Perfect for people-watching and for a light meal.
Osteria Margutta
: lovely restaurant and seasonal recipes not far from the Spanish Steps.
Porto Fluviale
: trattoria, pizzeria, small tastings, aperitivo, brunch….everything! In the young setting of the "trendy" district of Ostiense.
Romolo
: traditional dishes in the garden where Raffaello used to meet his lover "la Fornarina"…soooo romantic!
San Teodoro
: elegant restaurant with a pleasant dehors for a romantic dinner, in a quiet area (Velabro) not far from the Campidoglio
Spirito Divino
: genuine products, homemade cuisine, "slow food" philosophy and an incredible cellar filled with wine AND history! Ask the owners about the archeological excavations….In the quiet side of Trastevere.
Vecchia Roma
: since 1916, a traditional trattoria near Santa Maria Maggiore Basilica
Silvia Prosperi
is a tour guide in Rome:
www.afriendinrome.it
---
---